You are here
DJ Zinhle South Africa's hottest house DJ and trendsetter
Metro FM and SAMA Award nominee Zinhle Jiyane aka DJ ZINHLE is one of south Africa's best house music djane. She stepped onto the South African DJ scene at a time when it was still very much of a man's world, but this talented lady quickly managed to turn some heads with her crazy skills on the decks. She even grabbed the attention of some of Mzansi's most respected DJs, such as DJ Oskido, and has today become one of the best female house DJs in SA.
DJ Zinhle never planned on becoming a DJ. In fact, she only got into it because of chance and circumstance. "My brother Zak owned a company that hired out sound equipment, and he had so much love for music that he would always de-stress through mixing vinyls at home. One day he showed me how mixing works," says the young lady from Dannhauser in KwaZulu Natal. Her first proper gig happened when she was helping her brother set up for an event. The DJ was late, so Zinhle stepped in and the rest, as they say, is history. Well, not quite… She did, after all, have to break some ground by entering an industry dominated by men.
Zinhle always knew she wanted to work in entertainment and initially trained to be a TV presenter. It seems she was destined to appear on our screens, despite career change, as she got her first big break with the dance show Jika Majika. Jika Majika is a popular SABC1 youth show that showcases the latest dance moves. Zinhle was a resident DJ for the show from 2006 to 2009, this pushed Zinhle into the spotlight and made her a household name.
With over a decade in the entertainment industry, below are some of DJ Zinhle's big achievements:
– In 2009, Mail & Guardian nominated her as one of the 300 "Young South African You Have to Take to Lunch".
– She is a SAMA 19 song of the year nominee, 12th Metro FM Awards song of the year nominee and a Channel O Awards nominee.
– In 2014, Bona Magazine named her as one 10 of SA's Most Influential Women.
– Oprah Magazine named her as one of 21 Powerful African Women In 2014.
– In 2016, Channel 24 named as the 4th Most Powerful Celeb in South Africa.
– She is Glamour Magazine's Woman of Year for 2016.
– In 2016, she was ranked as the second MOST INFLUENTIAL YOUNG SOUTH AFRICAN in an annual awards and ranking scheme for young South African Achievers between 15-40 years.
– In 2017, she designed and showcased a fashion line alongside a young designer Chesney Williams at the Mercedes-Benz Fashion Week Joburg.
Shye recently tweeted about starting a new tv show on her official twitter account.
DJ Zinhle has DJ-ed or has been a key note speaker at several significant events :
– SAMA Awards, Channel O Awards and Gauteng Sports Awards.
– Miami Music Conference and Southern African Music Conference. – Durban July and SA Fashion Week.
– Oppikopi
– Common Weath Games South Africa after party in Glasgow.
– Swaziland MTN Bushfire.
– Nedbank Talk for Success.
– ESSENCE Festival.
– Working Mother's Expo
she will also be headlining an event in Kenya dubbed THE KOROGA FESTIVAL on the 27th May at the carnivore grounds.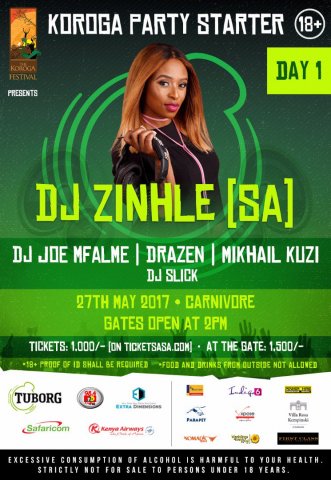 She has also done some major partnerships in her entertainment career. some of which are;
1. KALAWA JAZMEE RECORDS
DJ Zinhle is signed to Kalawa Jazmee Records and has realised a full album and two single under the label. "My Name Is", a single featuring Busiswa earned two Channel Nominations, and it was dubbed the "song of the Miami Music Conference" in 2012 after it was signed and released internationally buy Nulu Records, owned by Anane Vega.
2. FACE OF LEGIT SPRING/SUMMER 2013
"South Africa's hottest house DJ and trendsetter, DJ Zinhle, has been announced as the new face of Legit for Spring/Summer 2013. DJ Zinhle will be showing off the denim and tee's range, and we have no doubt that she will absolutely rock it. The range is both casual and sexy, so it appeals to women who like dressing down and those who enjoy the attention." –Woman24.com
3. ALBANY LOW GI AMBASSADOR 2016
"We're delighted to welcome DJ Zinhle into the family as an Albany Low GI brand ambassador," says Patience Mhlarhi, Marketing Assistant, Albany Bakeries. "She's a truly dynamic personality. With a new child and a thriving career, her approach to life, love and work is really interesting."
4. FUSE ACADEMY
In February 2009, DJ Zinhle partnered with Nomndeni Mdaki to launch The Firm Understanding of Sound Entertainment Academy (FUSE), the first DJing academy in South Africa that specifically targets female DJs.
FUSE Academy aims to empower young talented females in becoming DJ's and the approach adopted by FUSE is a holistic one aimed at identifying and nurturing talent.
FUSE Academy encapsulates the many challenges that females are faced with within the entertainment industry. It provides training, mentoring, and tutoring to equip students with the necessary skills and knowledge required to succeed in the entertainment industry.
FUSE Academy is a deejaying school founded and hosted by two young black females, with the purpose to empower young females interested in a career within the entertainment industry. The academy is located in Newtown, Johannesburg. Since its launch over 400 students have graduated from Fuse Academy.