You are here
The East Africa Pioneer DJ Convention & Expo is here
The East Africa Pioneer DJ Convention & Expo this year is partnering with the respected and well known female DJ hub, DJANE MAG (Africa Region), in a bid to reach out to even more female DJs from the East African Region.
This is going to be the third year that this exciting Convention graces the East African Region. It was first held in 2012, and subsequently in 2013 in Nairobi Kenya. It engages with the Entire DJ industry, relevant authorities to the industry, Music Artists, Creatives, Entertainment Spot owners and Music producers from throughout the East African region (Uganda, Tanzania, Ethiopia, Rwanda, Burundi, Kenya and South Sudan).  All participants are advised to fill out the online registration form via the link: https://tinyurl.com/y98evzvw
This convention is indiscriminate to whether you are a Professional or enthusiast thinking of joining this vibrant industry. This convention encompasses:
Technical know-how
Showcase (by both the designers of Pioneer DJ Equipment as well as seasoned and well known users of Pioneer DJ Equipment)
Industry talk (Both peer-to-peer / networking as well as engaging with relevant governmental authorities) and much more.
This day long event will incorporate all the above plus more to teach vogue mixing styles and skills as well as give talks on the DOs and DON'Ts while aiming for career DeeJaying i.e. pointers on DJ Resilience, Relevance and Versatility.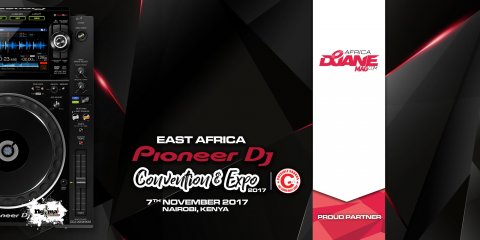 This convention has an expo built into it where one can observe, query and purchase Pioneer DJ products and spare parts at a discount. A service bay for advice on maintenance as well as equipment repair shall be on location too, courtesy of the bonafide distributer of Pioneer DJ Equipment, Credible Sounds.  
Do engage with East Africa Pioneer DJ Convention & Expo on the official social media platforms:
like us, get more information and chat with other industry players.
You can also send us an email via eapioneerdjconvention@gmail.com
After-party
As is tradition with this convention there will be an afterparty where DJs will battle each other, powered by Pioneer DJ and Credible Sounds. This shall encompass a DJ Battle whose winner will take home a spanking new Pioneer DJ Kit.
This event is brought to you by PIONEER DJ and CREDIBLE SOUNDS – of the bonafide distributer of Pioneer DJ Equipment.